Afghanistan's prestigious centre of higher education continues to be institution where intellectual leaders cut their political teeth.
In the rising heat of a May morning, Afghan riot police wielding batons and shields separate a cluster of students and young activists, one shouting support for a women's rights law the other an undergraduate group stopping traffic with a loud march backing their embattled professor.
Around the corner, dozens of students on the eighth day of a hunger strike lie listlessly beside blast-resistant concrete barriers watching supporters and the idle curious file past. More than 80 had pledged not to eat until Kabul University removed the head of the social science department, the man the second group were marching to endorse.
All three protests were organised by the young and increasingly vocal members of a boom generation swelling the ranks of undergraduates nationwide, keen to have a greater say in Afghanistan's future. After decades of war, more than two-thirds of the population are under 30, UN statistics show.
The ideological turmoil on Monday spilled out of the capital's university, the country's prestigious centre of higher education and a place where history offers student radicals of almost any persuasion the tantalising possibility that their activism could pave the way to a permanent place in Afghan school books.
The university was particularly influential in the 1960s and 70s, when it nurtured men who would go on to lead the anti-Soviet resistance and then drag the country into civil war.
Among the leaders who cut their political teeth there were Ahmad Shah Massoud, the so-called Lion of the Panjshir, who was assassinated on the eve of the 9/11 attacks on the US, and Gulbuddin Hekmatyar, once a US-supported mujahideen commander, now a Taliban ally.
It was also the intellectual birthplace of the communists and other foes, including Rawa, the Revolutionary Association of the Women of Afghanistan, an underground feminist movement founded in 1977 by Meena Kamal. She was assassinated a decade later.
Today the institution is still home to students of every ideological stripe, as keen as undergraduates in other places to challenge their government and society. The hunger strikers say they were inspired by the non-violent ideals of the Indian independence campaigner Mahatma Gandhi.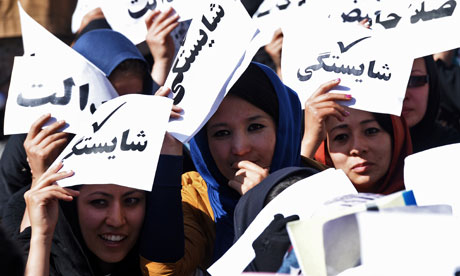 Students protest during a hunger strike in Kabul last week. Photograph: AFP/Getty
«In the past every demand was fought for with guns, we want peaceful protest,» said Hamidullah Mohammadi, one of the student co-ordinators. They appeared to have emulated Gandhi's success, albeit on a tiny scale, as that afternoon ministers visited the camp and agreed to their demands.
The concession may only end one protest, however, as hundreds had marched in support of the department head, some accusing the hunger strikers of unpatriotic connections. «They want to bring us teachers from Iran,» said 23-year-old Samir Rasouli. «They want changes in our university and we don't agree.»
And the women and a handful of men demanding parliament pass a key law on women's rights may be marching for years. The legislation was shelved indefinitely, after strong opposition from conservatives who said clauses including a ban on forced marriage were «un-Islamic».
Protesters say many women who planned to attend were scared away at the last minute by letters from conservative students warning the demonstration was un-Islamic. Several hundred undergraduates aligned with Islamist groups, some reportedly flying the Taliban flag, had staged their own demonstration against the law days earlier, so the warning bore weight.
Those who dared to march dismiss their hardline classmates. Islam protects women from violence, said Parwana, 24. And as the number of educated women rises, so will the number defending their rights.
«We are not only our voice, we are talking on behalf of many others who could not come today,» she told the Guardian. «My mother was 14 years old when she was married and didn't go to school. Our young generation do not want that life for themselves or their daughters.»
Additional reporting by Mokhtar Amiri
Kabul University spawns next generation of freedom fighters | World news | guardian.co.uk.