Police called in as islanders demonstrate against floating accommodation for Australian immigration detention staff.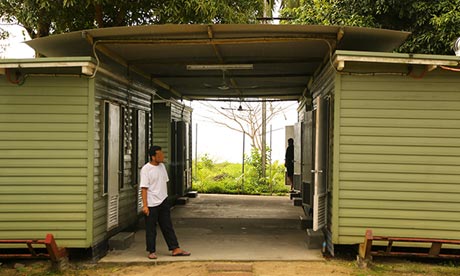 A demonstration by local landholders against Australia's expanding asylum seeker facilities on Manus Island became a "major disturbance" that had to be put down by Papua New Guinean police, sources have told Guardian Australia.
The demonstration on Saturday is believed to have been targeting the new floating barge hotel, the Bibby Progress, which accommodates up to 635 staff and has been dubbed "a monstrosity" by local people.
The demonstration riggered a "code grey" security alert – a major disturbance – and some sources said two Papua New Guinean nationals were injured when local police responded in a "heavy-handed" way, with "weapons drawn".
The latest incident comes after the recent violent clash outside the processing centre between PNG police and military, which saw the initial stages of an evacuation of centre staff – leaving the asylum seeker centre inmates behind. The staff were in the process of evacuating to the HMAS Choules, anchored off Manus, when the evacuation was called off. The government is holding an inquiry into that incident.
Tribal elders have been angry that local people have not been able to tender for contracts at the asylum centres and have demanded payments for the use of their land for the asylum camps and associated facilities, like rubbish dumps.
The arrival of the Bibby Progress, with its restaurant, gymnasium and rooftop terrace, is the latest development to anger some locals.
A spokesman for Scott Morrison, the Australian immigration minister, has said the barge will house up to 635 immigration staff, security workers and building contractors and that it contains a central kitchen and dining facilities, recreational facilities, laundry facilities and bedsit style accommodation.
The Immigration Department hired it as temporary accommodation for staff for $1,295,475 from 31 October 2013 until 31 May 2014, from Liverpool-based Bibby Maritime, which boasts it has a fleet of floating "coastel" accommodation barges.
The government has already awarded a tender to build a new facility for women and children on Manus and is in the process of awarding tenders for another 800-person asylum seeker camp and a permanent accommodation facility for up to 800 staff at the Lombrum base.
There are 1,137 asylum seekers on Manus Island. Since the Coalition began «Operation Sovereign Borders», 67 asylum seekers in total – from both Manus and Nauru – have elected to return to their country of origin. No asylum seeker on Manus has had a refugee claim processed.
At his weekly briefing on Friday, Morrison said Coalition policies were beginning to stop the arrivals of asylum seekers by boat.
"For the first time in five years we are now getting the upper hand over the people smugglers and we do not intend to yield this ever again," he said.
Protest on Manus Island over Bibby Progress | World news | theguardian.com.