One of the world's most controversial mines is back in the spotlight after hundreds protested against renewed efforts to mine India's Niyamgiri Hills.
Dongria Kondh and Niyamgiri supporters held their own 'public hearing' in Orissa state, where they restated their resolve not to allow mining on their sacred mountain.
The meeting coincided with a Supreme Court appeal in Delhi, which sought to overturn a 2010 ruling preventing UK mining company Vedanta from building an open-pit bauxite mine in the Niyamgiri Hills.
However, the appeal was adjourned on Monday and India's Supreme Court has yet to issue a new date for the hearing.
Shortly after the announcement, Indian activist Prafulla Samantara from the National Alliance of People's Movements, spoke to Survival.
He said, 'I hope India's Supreme Court endorses the government's ruling not to mine in Niyamgiri. This is in the interests of protecting natural resources and tribal peoples.'
Miles away in the Niyamgiri Hills, two years after the Dongria Kondh historically defeated Vedanta, protesters continue to make their position clear.
Dongria elder Dodhi Sikaka said, 'Those who are fighting for their rights are beaten up and put behind bars. Now all we Dongrias are together in resisting this. We are fighting for our own people, for our ancestral land, for Niyamgiri.'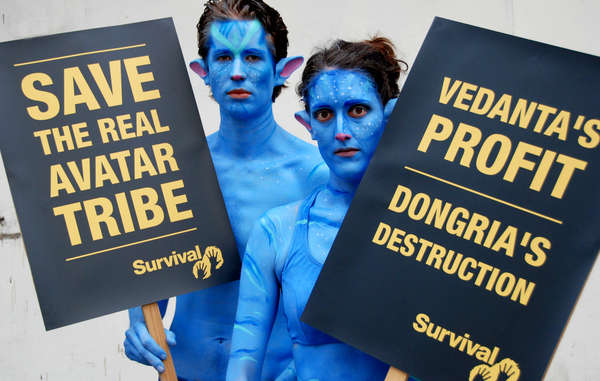 The plight of India's Dongria Kondh has been likened to a 'real-life Avatar'.
© Survival
Survival International's Director Stephen Corry said today, 'By once again postponing this decision, the Supreme Court judges have left a sword of Damocles hanging over the Dongrias' heads. But on Sunday the Dongria held their own day of judgment – a public hearing at which they vowed to protect their sacred mountain. Whatever the court may decide far away in Delhi, in the Niyamgiri Hills the Dongrias' decision is clear.'
Indian tribe stands firm as Vedanta mine appeal adjourned – Survival International.